Annex A Useful Websites
Guidance and information issued by Government, other responders and relevant groups.
Annex B Risk Preparedness Assessment Diagram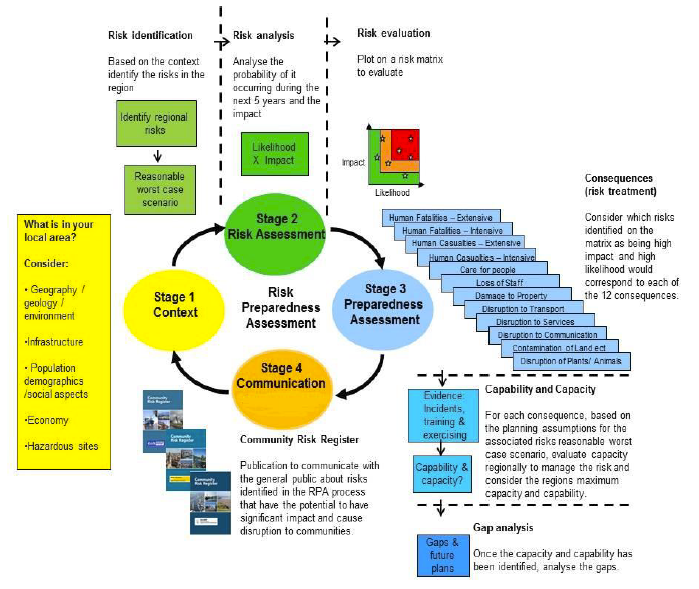 Annex C Glossary and Acronyms
Hazard – Accidental or naturally occurring (i.e., non-malicious) event or situation with the potential to cause death or physical or psychological harm, damage or losses to property, and/or disruption to the environment and/or to economic, social and political structures.
Threat – Intent and capacity to cause loss of life or create adverse consequences to human welfare (including property and the supply of essential services and commodities), the environment or security.
Risk – Measure of the significance of a potential emergency in terms of its assessed likelihood and impact.
Impact – The scale of the consequences of a hazard, threat or emergency expressed in terms of a reduction in human welfare, damage to the environment and loss of security.
Likelihood – Chance of something happening, whether defined, measured or estimated objectively or subjectively, or in terms of general descriptors (such as rare, unlikely, almost certain), frequencies or mathematical probabilities.
Risk assessment – A structured and auditable process of identifying potentially significant events, assessing their likelihood and impacts, and then combining these to provide an overall assessment of risk, as a basis for further decisions and action.
Risk management – All activities and structures directed towards the effective assessment and management of risks and their potential adverse impacts.
Risk priority – The relative importance of the treatment(s) required for the management of the risk, based on the risk rating and the additional capabilities required to manage risk.
Capacity – measure of an organisation's ability manage the consequences of an emergency.
Capability – demonstrable ability to respond to and recover from a particular threat or hazard.
Capability Gap – The gap between the current ability to provide a response and the actual response assessed to be required for a given threat or hazard. Plans should be made to reduce or eliminate this gap, if the risk justifies it.
Risk Lead – Coordinate the regions multi-agency response to complete the RPA process. Risk Lead can also be define a representative of an organisation with the greatest interest, expertise and knowledge of a particular risk and are therefore best place to define and assess it. As well as being involved in the assessment of risks which fall within their area of interest Risk Leads should be encouraged to contribute to the assessment of other risks which may indirectly effect upon their area of knowledge. Risk Leads are experts and not risks owners they have the expertise to provide an evidence based assessment based on analysis of information and are therefore not necessarily responsible for preparing and responding to an event.
Reasonable worst case scenario – is defined as a plausible yet challenging manifestation of the risk it is the worst manifestation of the generic risk it represents from a civil contingencies planning and capability building perspective.
You can find more resilience-related definitions at: https://www.gov.uk/government/publications/emergency-responder-interoperability-lexicon
Acronyms:
RPA - Risk Preparedness Assessment RRPs - Regional Resilience Partnerships CRR - Community Risk Registers
IEM - Integrated Emergency Management
LRP - Local Resilience Partnership NRA - National Risk Assessment SRA - Scottish Risk Assessment
SFRS - Scottish Fire and Rescue Service
COMAH - Control of Major Accident Hazards Regulations 2015
PSR - Pipelines Safety Regulations 1996
REPPIR - Radiation (Emergency Preparedness and Public Information) Regulations 2001
NRR - National Risk Register
LRMG - Local Risk Management Guidance